Commuters are facing disruption as workers on South Western Railway (SWR) begin a 27-day strike.
It comes after talks between the Rail, Maritime and Transport (RMT) union and SWR over a long-running dispute over guards on trains broke down.
The operator called the action "unnecessary" and said "more than half" of weekday trains would run, but warned of queues at stations.
The union said the strike is "in defence of passenger safety".
The RMT said SWR had "point-blank refused" to show any serious movement at talks held at the conciliation service Acas.
The union has been demanding that guards should oversee the operation of doors and perform other safety functions in dispatching trains.
It said the company's proposals would leave guards as "glorified porters" without any safety responsibilities.
As the strike got under way earlier, disruption was compounded when a man seen carrying an air rifle led to a train being evacuated.
Elsewhere, Sophia Griffiths, who travels from Earlsfield station into central London, said: "Usually when they strike the station is not too bad but today was just nuts.
"I saw the queue outside and thought 'no way' – I've never seen it that long so I took the bus to Tooting and got the Tube from there."
She said she was supportive of the striking workers and said it was "crazy they (SWR) would let it get to this".
The communications officer at Nuffield Council on Bioethics said she was considering cycling to work during the prolonged action and working from home more.
Charlotte Burnell said it took almost an hour to travel from Claygate, Surrey, to Waterloo – a journey which usually takes 34 minutes.
"You can manage a couple of days of strike action but the thought of it going on for 27 days is pretty overwhelming," she said.
"It's physically uncomfortable. I was forced to stand awkwardly and my back was killing me."
Steve Nagioff described passengers "rammed" into a carriage on his commute from Whitton in south west London.
"A woman next to me said that she couldn't breathe. The train stopped at Richmond and I fell out – luckily other passengers got off the train so I got back on it again.
"It's just not right – I pay full ticket prices. If the service is going to be like this then it should be free," he added.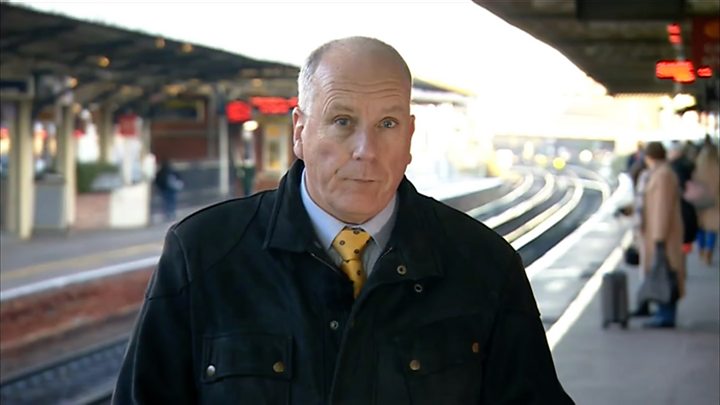 Becky Bartlett, from Wokingham in Berkshire, said she was an hour late for work in London after her regular train was cancelled.
"I have various theatre and gig plans for the month, plus Christmas parties and events, which I have either had to cancel, some at loss of the ticket price, or I'm going to have to pay for a £30+ taxi from Reading just to get home.
"This whole experience is going to be horrific. I'm one day in and I've already had enough."
RMT assistant general secretary Steve Hedley said members were "absolutely furious" with SWR following the Acas talks.
"Of course our members don't want to lose a month's money running up to Christmas but they're prepared to do that to show that safety and accessibility for disabled people is non-negotiable."
Regional organiser Mick Tosh said the union would consider financial support for any members who suffered particular hardship because of the strike.
Your Questions Answered: Could public transport be made cheaper?
SWR said it had offered "a guard on every train, and a safety critical role for that guard".
Managing director Andy Mellors said the action was "unnecessary" and the issue needed to be settled before a new fleet of modern suburban trains was introduced next year.
"Our assessment is that by having drivers opening and closing doors, that will actually optimise the performance of the network by getting more trains to Waterloo on time.
"We've been very clear that we're committed to keeping a guard on our trains and those guards will have safety critical competencies. Our proposals will make guards more customer facing and improve safety, security and accessibility."
Analysis
By Paul Clifton, BBC South transport correspondent
At Chandler's Ford station this morning, the ticket office door was locked. The platform was empty and all the signs were blank.
It's going to stay that way for a month. The next train isn't due until 2 January 2020.
It's the same story at Swaythling, Millbrook, Dean, Dunbridge and a few other small stations popular with children heading to school as well as daily commuters.
The two sides are trading insults and blaming each other. They haven't budged in more than two years of strikes.
I don't think many passengers have any goodwill left at all for either the RMT or South Western Railway – because this month-long strike is going to cause real hardship for hundreds of thousands of people each day.
SWR released a revised timetable and said it would provide longer trains to increase capacity where possible.
The operator runs services between London Waterloo and Portsmouth, Southampton, Bournemouth and Weymouth as well as Reading, Exeter and Bristol. It also operates suburban commuter lines in south-west London, Surrey, Berkshire, and north-east Hampshire.
Strike days are as follows:
From 00:01 GMT on Monday 2 December until 23:59 on Wednesday 11 December
From 00:01 on Friday 13 December until 23:59 on Tuesday 24 December
From 00:01 on Friday 27 December 2019 until 23:59 on 1 January
---
Has your journey been affected? Email [email protected]
Please include a contact number if you are willing to speak to a BBC journalist. You can also contact us in the following ways: