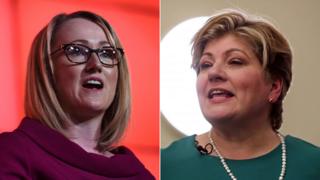 Rebecca Long-Bailey has promised to "shake up" how government works and put power into the hands of voters if elected Labour leader.
Launching her campaign in Manchester, she said the last few years showed many people "instinctively" thought there was something wrong with laws being drafted by an "elite" in Brussels.
She added that Westminster "didn't feel much closer".
Earlier, Emily Thornberry made her leadership pitch.
The shadow foreign secretary highlighted her experience challenging Boris Johnson, in a speech in her home town of Guildford in Surrey.
The first Labour hustings event will take place in Liverpool on Saturday.
Mrs Long-Bailey and Ms Thornberry will be joined at the debate by fellow candidates Lisa Nandy, Jess Phillips and Sir Keir Starmer.
Labour members will also be able to put questions to the contenders to become Labour's deputy leader – Rosena Allin-Khan, Dawn Butler, Richard Burgon, Ian Murray and Angela Rayner.
It comes as a YouGov poll of 1,005 Labour members for The Times suggests Sir Keir has extended his lead over Mrs Long-Bailey.
Government 'shake-up'
At her leadership campaign launch at Manchester's Science and Industry Museum, Mrs Long-Bailey said the British state needed "a seismic shock, to prise it open at all levels to the people".
"Where I grew up, Westminster, even London, felt like a million miles away," she said.
"The story of the last few years is that many people feel there is something wrong with their laws being drafted hundreds of miles away by a distant and largely unaccountable bureaucratic elite in Brussels.
"But I'll be honest, Westminster didn't feel much closer, and it still doesn't today."
She vowed to end the "gentlemen's club of politics" by moving power from London to local levels and from chief executives to workers.
The shadow business secretary said she wanted to "shake up the way government works", adding: "We will put power back where it belongs – in your hands."
She pledged to "sweep away the House of Lords" and replace it with an elected senate outside of London.
"My kind of socialism is the kind we all rise together," she told Labour members and supporters.
"My kind of socialism is a Britain in which everyone is free to dream, free to climb and free to succeed".
She said Labour's election defeat was in part down to voters not trusting the party – adding Labour had a lot of work to do to win trust back.
Mrs Long-Bailey said the "most upsetting thing" for many Labour members has been "what has happened with the anti-Semitism crisis within our party".
She said the party "didn't tackle it properly" or "act quickly enough" and despite "vast advances" in procedure in dealing with allegations, "we still haven't won back the trust of Jewish members".
"I won't ever let that happen again," she said. "We have got to take robust action."
On Thursday, she received a boost on when she secured the support of the grassroots organisation Momentum.
Meanwhile, Mrs Long-Bailey recently said she was opposed to abortion after 24 weeks on the grounds of disability, adding that this was a personal view rather than a policy position.
Her spokesman said she "unequivocally supports a woman's right to choose".
'Battle-hardened'
Launching her campaign, near the Bellfields estate where she grew up, Ms Thornberry warned that Labour faces "a long, tough road back to power after the painful and crushing defeat we suffered last month" in the general election.
"We're going to need someone tough, someone resilient, someone experienced and battle-hardened," the shadow foreign secretary said.
Ms Thornberry, who scraped through the first stage of the race, securing the required amount of support from MPs minutes before the deadline, said she had the "skills and the values" to be leader and emphasised her experience in the shadow cabinet.
She drew attention to her role "on the front line in the fights against climate change, universal credit, and anti-abortion laws in Northern Ireland".
Ms Thornberry also said that if she ever lost the confidence of colleagues or thought she was going to lose an election she would stand down.
"I will always put the Labour Party first," the MP for Islington South and Finsbury said.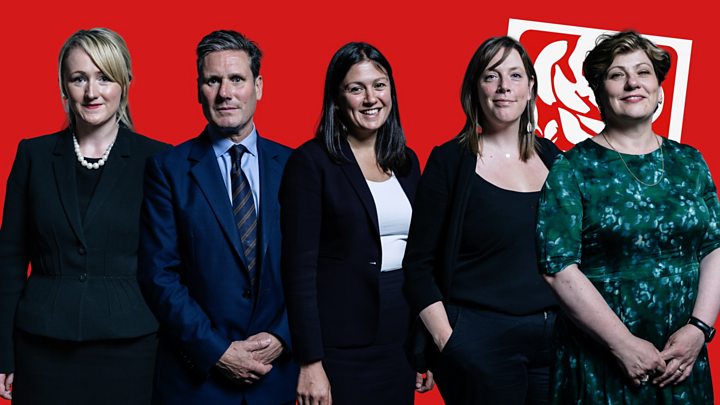 The latest YouGov poll showed that Ms Thornberry would go out in the first round of voting with just 3%, with Ms Nandy knocked out in the second round and Ms Phillips in the third, with most of her second preference votes going to Sir Keir.
Reacting to the poll, Ms Thornberry said it would be a "long campaign" and that it would be "short-sighted" to stop now.
She said she had "never taken the easy way" and that "people can work out who is the best leader at the hustings".
The poll indicates Sir Keir would beat Mrs Long-Bailey in the final round by 63% to 37%, once the other candidates have been eliminated.
A YouGov poll last month suggested the shadow Brexit secretary was on 61%, compared with Mrs Long-Bailey on 39%.
The poll suggests Angela Rayner is on course to win the deputy leadership election in the first round with 57%.
It is a poll of full Labour members only, and does not include registered and affiliated Labour supporters, who are also entitled to cast a ballot.
Meanwhile, speaking on the BBC's Political Thinking with Nick Robinson podcast, Ms Nandy said she was a "sceptic" about the monarchy.
She went on to say she believed patriotism was "a profoundly left-wing value… it is about being part of something bigger than yourself".