Sinn Féin president Mary Lou McDonald has described the Irish general election as "something of a revolution in the ballot box".
Counting is continuing and the first results are coming in, after an exit poll put the three main political parties tied in first preference votes.
Indications suggest there is little difference in percentage terms between Fine Gael, Sinn Féin and Fianna Fáil.
Early tallies at count centres suggest a Sinn Féin surge.
Polling in the election closed at 22:00 on Saturday.
Ballot boxes from across the 39 constituencies were opened at 09:00 local time on Sunday.
Arriving at the RDS count centre in Dublin on Sunday afternoon, Ms McDonald said she was exploring options to see if it would be possible to form a government without either Fine Gael or Fianna Fáil.
Before the election both Fine Gael and Fianna Fáil said they would not enter coalition with Sinn Féin.
On Sunday, Fianna Fáil leader Micheál Martin did not rule out working with Sinn Féin, but said "significant incompatibilities" still existed, while Fine Gael's Eoghan Murphy reiterated that his party would not deal with Ms McDonald's party.
Ms McDonald said this election was about "change".
"The frustration people have felt for a long time with the two-party system, whereby Fine Gael and Fianna Fáil handed the baton of power between each other – that's now over."
"We now have a very substantial mandate," she said.
In 2016 her party won 23 seats but projections for the 2020 election have them set for between 36 and 40.
The projection carried out by University College Dublin has the party on a similar number of seats to Fianna Fáil and Fine Gael.
It followed an exit poll – commissioned jointly by Irish national broadcasters RTÉ and TG4, as well as The Irish Times and University College Dublin – which indicated that Fine Gael – led by Taoiseach (Irish Prime Minister) Leo Varadkar – secured 22.4% of first preference votes, closely followed by Sinn Féin (22.3%) and Fianna Fáil (22.2%).
Fianna Fáil leader Micheál Martin, who has arrived at the count centre in Cork, was asked if he was open to doing a deal with Sinn Féin but said "significant incompatibilities" still exist.
He said reports suggested that his party "would be the largest".
He added that he was a "democrat" and respected the vote of the people.
Ireland's elections are carried out under the proportional representation (PR) voting system, using the single transferable vote (STV). Voters wrote "1" opposite their first choice candidate, "2" opposite their second choice, "3" opposite their third choice and so on.
This means that the picture presented when the first preference votes are counted does not completely reflect the final outcome.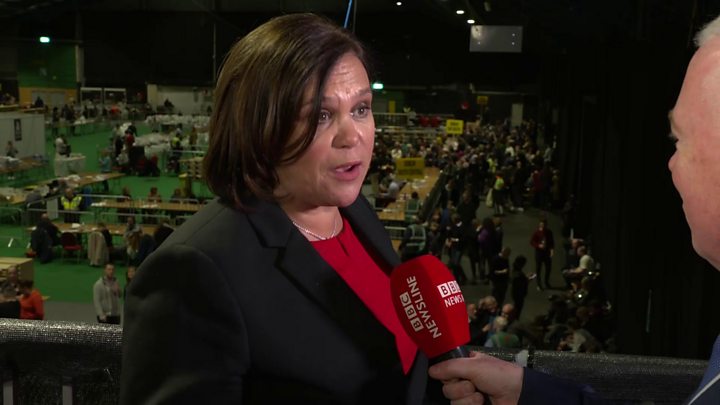 Sinn Féin also ran 42 candidates across the 39 multi-seat constituencies, about half that of both Fine Gael and Fianna Fáil, which will have a knock-on effect on the number of seats it can secure.
---
A huge shift
Analysis by Chris Page, BBC News Ireland correspondent
No results have been declared yet – but from the tallies at count centres around the country, it seems clear a huge shift has taken place.
The figures which have been gathered by party teams as ballot boxes have been opened strongly suggest the Sinn Féin surge has materialised.
Mary Lou McDonald's party is challenging the main historical rivals – Fine Gael and Fianna Fáil – in the race for first preference votes.
While Sinn Féin has been well used to electoral success in Northern Ireland – where it's well established as the second-largest party – it has never before matched the two parties which until now have been known as the "big two" in the Republic of Ireland.
Sinn Féin's director of elections, Pearse Doherty, has told RTÉ radio that Mary Lou McDonald has begun to engage with other party leaders – and that there is "an onus to bring about change".
But a senior Fine Gael minister, Richard Bruton, has re-iterated his party's position it will not go into government with Sinn Féin.
During the campaign, Fianna Fáil also strongly ruled out a coalition with Sinn Féin.
---
The exit poll also suggests the Green Party secured 7.9% of first preference votes, followed by Labour (4.6%), Social Democrats (3.4%), Solidarity People Before Profit (2.8%).
Indications are that Independents took 11.2% of first preference votes.
The poll suggests a move toward Sinn Féin among younger voters, with the party receiving the largest number of first preference votes among 18-24 years olds (31.8%).
The majority of voters over the age of 65 appear to have given their first preference to Fine Gael or Fianna Fáil.
There is a margin of error of 1.3% in either direction in the exit poll.
Political pundits have predicted that some government ministers could lose out, if early projections are correct.
RTÉ has said the potential casualties could include Transport Minister Shane Ross in Dublin-Rathdown, an independent who first won a Dáil seat in 2011.
Minister for Children, Katherine Zappone, is also in difficulty in Dublin South-West, the broadcaster said.
Former Labour leader and tánaiste (deputy prime minister) Joan Burton, first being elected to the Dáil in 1992, is also likely to lose her seat, RTÉ said .
---
Storm Mary Lou?
Analysis by Shane Harrison, BBC News NI Dublin correspondent
As Ireland north and south is battered by Storm Ciara, it is Storm Mary Lou that is the talking point of the Republic of Ireland's election.
Mary Lou McDonald and Sinn Féin have ensured that what was once a predominantly two party system is no more as she and her colleagues capitalised on public concern about health care and housing.
But Sinn Féin did not run enough candidates to capitalise on its unexpected surge in support.
With both parties ruling out coalition with Sinn Féin, it may take some time to form a government.
And Mary Lou McDonald will need little reminder of how fickle the electorate can be.
In the past, the Labour Party surfed the mood of change with the 1992 Spring Tide and the 2011 Gilmore Gale: neither lasted very long.
But this time it might be different.
The electorate have spoken but it might take some time to figure out what voters have said.
---
RTÉ said voting appears to have been "solid".
However, there is no expectation of a spike in voting compared to 2016, despite it being the first ever Saturday general election vote in the state's history.
Factors that may have affected turnout include the poor weather and international rugby.
A total of 160 representatives will be returned to the Dáil (Irish parliament) and newly elected TDs will gather on 20 February .
The ceann comhairle, or speaker, is automatically re-elected.
In most situations, the speaker does not vote, so a government will need 80 TDs to hold a majority.
It is unlikely that any party will reach that number, so another coalition government is probable, although the composition is still unclear.