The government has defeated the first rebellion from its own MPs over plans to allow Huawei to be used in the UK's 5G mobile network.
A number of senior Conservatives backed an amendment to end the Chinese firm's participation in the project by the start of 2023.
Despite promises from the government of a new bill to address their concerns, rebel MPs pushed their plan to a vote.
But with a large Commons majority, the government defeated it by 24 votes.
The use of Huawei technology in the 5G network was signed off by No 10 and security experts earlier this year, with the caveats of keeping the kit out of the most sensitive areas and capping its market share at 35%.
But Tory critics say the firm is an arm of the Chinese state and a risk to UK security – claims the firm rejects.
Other countries, including the US and Australia, have banned Huawei from their own networks and criticised the UK's decision.
A group of Tory MPs, led by the party's former leader Sir Iain Duncan Smith, put forward an amendment to the Telecommunications Infrastructure Bill to try and stop Huawei's involvement.
The amendment would have seen firms classified as "high-risk vendors" by the National Cyber Security Centre be banned entirely from the UK's 5G project by 31 December 2022.
Sir Iain said he and his colleagues were "genuinely concerned that this country has got itself far too bound in to a process in which we are reliant on untrusted vendors".
Speaking in the Commons, the backbencher accused the Chinese government of spending 20 years "underbidding" other technology firms until Huawei dominated the market, and the outcome was a risk to the UK's security.
He said using Huawei's technology was a "statement of absence of thought by any government", adding: "If defence of the realm is our number one priority, then this becomes demi-defence of the realm, and I am simply not prepared to put up with that."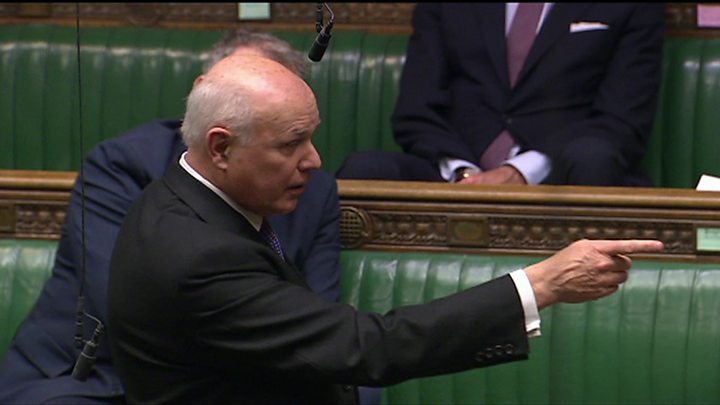 Culture Secretary Oliver Dowden tried to reassure the group of backbenchers with the promise of bringing forward a Telecoms Security Bill before the summer recess "so all honourable members will be able to debate these points extensively".
He also said the government wanted to work with its Five Eyes security partners – including the US – on alternative solutions so the UK could "get to a position where we do not have to use high risk vendors at all".
But Mr Dowden could not give a timetable for the exclusion of such companies, except to say it would be "in this Parliament" – meaning within the next five years.
As a result, Sir Iain pushed his amendment to a vote, marking the first Tory rebellion against the government since Boris Johnson won the election in December.