The UK has seen its biggest day-on-day increase in coronavirus cases, bringing the total number to 87.
Almost all of the 36 new patients had recently travelled to affected countries or been infected by others who had done so, the UK's chief medical adviser Prof Chris Whitty said.
But it is not clear how three new patients in England caught the virus.
Meanwhile, it has emerged that two patients at King's College Hospital have been diagnosed with the virus.
A family member of an elderly patient at the south London hospital told the BBC one of those who was infected had been staying in the same room as his relative prior to being diagnosed.
The hospital said it had restricted access for staff and visitors to the affected ward, and was tracing those who may have come into contact with the infected patients.
Of the 87 cases in the UK there are 80 in England, three in Scotland, one in Wales and three in Northern Ireland.
What do I need to know about the coronavirus?
Two of the latest patients are Scottish, with one living in the Grampian area and the other in Ayrshire. One had recently travelled to northern Italy while the other had contact with a known positive case.
New cases of the virus in England have been confirmed in Liverpool, York, Carlisle, Newcastle, Torquay and Manchester, as well as in Lancashire and Derbyshire.
In Northern Ireland, a Queen's University postgraduate student, who recently returned from northern Italy and has been mixing with fellow students, tested positive.
Meanwhile, students at Goldsmiths in south London have been told a visitor to one of the university's halls of residences has coronavirus.
In an email, the university said the person was "being looked after" and that the student they visited was "self-isolating as a precautionary measure".
Buckingham University and the University of London have put back their graduation ceremonies to minimise the spread of the disease.
Prof Whitty – who earlier said an epidemic in the UK was "likely" – said people who had been in contact with the new patients are being traced.
In "the worst case scenario", up to 80% of the UK population could be infected with coronavirus, which causes the disease Covid-19, he said.
But he said a move to lock down entire towns and cities across the UK would be "very unlikely".
In other key developments:
A major public health campaign urging people to wash their hands regularly for at least 20 seconds has also been launched.
Health Secretary Matt Hancock said washing hands regularly was the "single most important thing that an individual can do".
Public Health England says to use a hand sanitiser with at least 60% alcohol if soap and water are not available, advising that hand washing is particularly important after using public transport.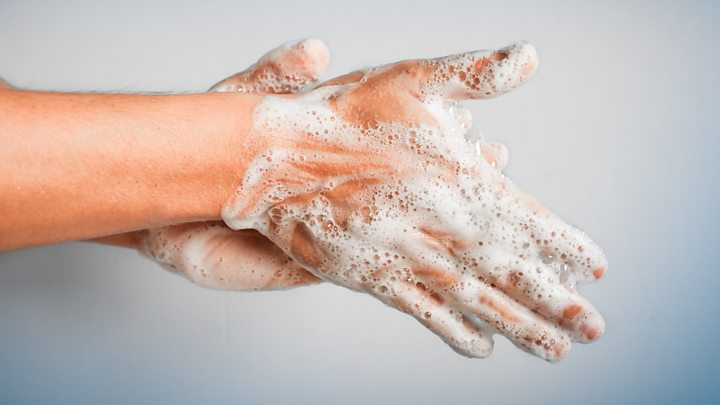 What have we learnt from these new cases?
It's the biggest daily rise we have had. But this is not unexpected – health officials have been warning we should be braced for an increase.
This could last for two or three months until a peak is reached.
Of the 34 new cases, three are worrying from the perspective that the government has been unable to establish how they were infected. They have no links to people who have been abroad to places where there are significant outbreaks.
That brings the total number of cases like this to five – and could be a sign that the virus is circulating in the community.
Some of the other new cases are not people who had been abroad, but were infected in this country by people who had been.
That in itself is a sign there are clusters developing that the health authorities will be working hard to contain.
Public health officials have released no details about where the new cases are, or just how big these clusters are, leaving some key questions hanging.
Earlier on Wednesday, Prime Minister Boris Johnson announced emergency legislation allowing workers to get statutory sick pay from the first day they are off work, not the fourth, to help contain the virus.
Mr Johnson told the House of Commons that people who self-isolate should not be "penalised for doing the right thing".
The sick pay announcement means those receiving statutory sick pay would get an extra £40 a week, paid for by their employers.
The government has said up to a fifth of the workforce may be off sick during the peak of a coronavirus epidemic in the UK.
About 90,000 people have been infected globally since the outbreak of coronavirus in Hubei province, China, in December, with cases in more than 50 countries and more than 3,000 deaths.
Last week, a British man who was infected on the Diamond Princess cruise ship quarantined in Japan became the first UK citizen to die from the virus.
---
How have you been affected by coronavirus? Share your experiences by emailing [email protected].
Please include a contact number if you are willing to speak to a BBC journalist. You can also contact us in the following ways: