A GP practice in Brighton has been temporarily closed after a staff member tested positive for the coronavirus.
Patients at the city's County Oak medical centre have been advised to contact the NHS 111 phone service if they have concerns.
Two of the eight people diagnosed in the UK are healthcare workers.
The Department of Health has called the virus a "serious and imminent threat" to public health, but the overall risk to the population is "moderate".
However, the risk to individuals is low, the department said.
There have been more than 40,000 cases of the virus globally, mostly in China. The total number of deaths in China is now 908.
One of the eight people infected in the UK is a British man who caught the virus at a conference in Singapore and travelled to a ski resort in France.
He was diagnosed in Brighton, and is being treated at St Thomas' Hospital in London.
He has been linked to five of the other cases – four of which were announced on Monday.
In addition to the eight cases in the UK, five British nationals tested positive in France following the Brighton man's trip to the ski resort.
A British man has also been diagnosed with coronavirus in Majorca after contact with a carrier in France.
Elsewhere, the Department of Health has introduced new measures in England that mean those in quarantine will not be free to leave their accomodation, and can be forcibly sent into isolation if they pose a threat.
The move comes after a passenger on the first UK flight from Wuhan, who is being held in quarantine on the Wirral, had been "threatening to abscond", according to the BBC's political correspondent Iain Watson.
What are the symptoms of coronavirus and what can help stop its spread?
The main signs of infection are fever (high temperature) and a cough as well as shortness of breath and breathing difficulties.
Frequent hand washing with soap or gel, avoiding close contact with people who are ill and not touching your eyes, nose and mouth with unwashed hands, can help cut the risk of infection.
Catching coughs and sneezes in a tissue, binning it and washing your hands can minimise the risk of spreading disease.
Anyone experiencing symptoms, even if mild, after travelling from mainland China, Thailand, Japan, Republic of Korea, Hong Kong, Taiwan, Singapore, Malaysia or Macau, is advised to stay indoors and call the NHS 111 phone service.
Is the Brighton man a 'super-spreader'?
This looks a lot like a "super-spreading" event. It is likely another British national diagnosed in Majorca is also connected to the Brighton man.
This is not unusual in outbreaks.
We know that people pass this novel coronavirus on to an average of two to three people, but some will pass it on to nobody and others will pass it on to far more.
In Mers-coronavirus, a super-spreading event led to 82 people being infected.
History has demonised the super-spreader. Irish cook Mary Mallon (1869-1938) is remembered as "Typhoid Mary" after unknowingly passing on the disease when she had no symptoms. She spent decades in exile and forced quarantine.
But in reality it's not the patient's fault.
Having no symptoms, making unusually large amounts of virus or mixing with lots of people can all lead to super-spreading.
What is the government doing?
The main focus is on rapidly identifying people with the disease and taking them to specialist hospitals for treatment in isolation.
They are then tracing anybody who has come into close contact with the patient to make sure they know the signs of the disease and what to do.
Arrowe Park Hospital, on the Wirral, and Kents Hill Park conference centre, in Milton Keynes, have been designated as "isolation" facilities in the UK.
Evacuees from Wuhan who travelled to the UK on two flights chartered by the Foreign Office are currently in quarantine at those locations.
Iain Watson said the Department of Health's new quarantine measures were announced because one person has been "threatening to abscond" despite signing a contract agreeing to the isolation period.
He said the regulations were brought in "to try and compel him to stay put".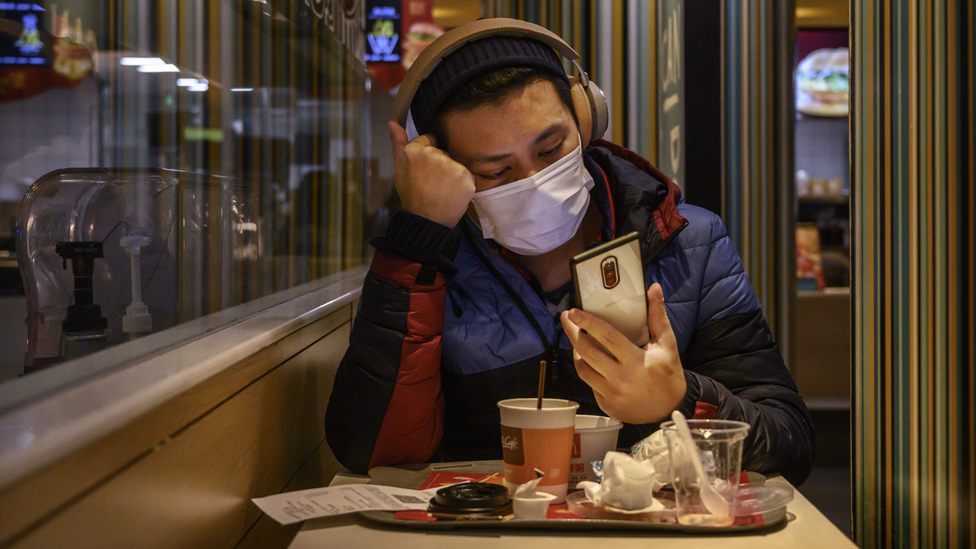 Getty Images
Spread of coronavirus
40,000+cases of the virus globally

908deaths in China, as of Sunday 9 February
27 other countries, at least, it has spread to

1%of people infected go on to die, it's estimated
Sources: China National Health Commission, WHO Collaborating Centre for Infectious Disease Modelling
How serious is the threat?
A statement on the Department of Health website said "incidence or transmission of novel coronavirus constitutes a serious and imminent threat to public health".
However, Whitehall sources say that announcement was made to help enforce the new quarantine powers.
The department confirmed on Twitter that the risk to the public "has not changed".
That risk is actually "moderate".
The UK's four chief medical officers raised it from "low" on 30 January, after the WHO declared the outbreak a public health emergency, to enable it to "plan for all eventualities".
Ultimately, the government maintains that the risk to individuals remains low.
Have you been affected by this story? Share your experiences by emailing [email protected].
Please include a contact number if you are willing to speak to a BBC journalist. You can also contact us in the following ways: