A former MP falsely accused of being part of a VIP paedophile ring has branded a review of how detectives handled the claims as "a whitewash".
The police watchdog identified "organisational failings" but cleared five detectives of misconduct.
After the release of a retired judge's criticisms of the Met's probe, ex-MP Harvey Proctor said a separate report by the police watchdog was "a pathetic attempt" to excuse mistakes by police.
The watchdog said it had been thorough.
In its report, published on Monday, the Independent Office for Police Conduct (IOPC) found no evidence of misconduct but said the investigation "revealed gaps and shortcomings where there is room for improvement".
It made 16 recommendations to avoid mistakes being repeated, including on search warrants and ensuring allegations are investigated objectively.
No officers were prosecuted or disciplined for their part in Scotland Yard's £2.5 million Operation Midland, which investigated bogus claims made by Carl Beech, previously known as "Nick".
Beech, 51, from Gloucester, was jailed for 18 years for his false accusations.
The claims prompted searches of the homes of three prominent people – former Conservative MP Mr Proctor, D-Day veteran and former chief of the defence staff Lord Bramall and Lady Diana Brittan, the widow of former home secretary Leon Brittan.
In a 2016 report into Operation Midland – which was partly published by Scotland Yard last week – retired High Court judge Sir Richard Henriques found:
The searches "should not have taken place"
The warrants were obtained "unlawfully"
Police "misled" the magistrate who approved them, including by describing Beech as a credible witness who had been "consistent" in his account
The IOPC said it found no evidence the officers who were investigated had deliberately misled the district judge by omitting any mention of inconsistencies.
But it acknowledged it was "unable to establish with any clarity or certainty" what exactly the officers knew about Beech's evidence.
The IOPC report said it was "unclear" when details recording Beech's inconsistencies began to be recorded, and that the watchdog did not know "which inconsistencies were known to the investigation team at any specific time".
Sir Richard said the IOPC report was "flawed" and "fell well short of an effective investigation".
'Improper motive'
Mr Proctor said the IOPC was "not an independent body that the public can trust" and called on the home secretary to abolish and replace it with "experts who are genuinely qualified to assess and to criticise police failings".
He said the IOPC report attempted to excuse police mistakes "by saying they acted in good faith", with the intention of maintaining public confidence in the aftermath of the Jimmy Savile abuse scandal.
"But this is not acting in good faith – it is acting to interview under caution and search the homes and office of people without evidence in order to help public relations," he said.
Mr Proctor's lawyer Geoffrey Robertson QC said this was an "improper motive" and it was "outrageous that the IOPC should think it is a valid excuse for accusing innocent men of heinous crimes or misleading a judge to obtain a search warrant for their homes".
In his report, IOPC director general Michael Lockwood said: "Did the officers involved make mistakes? Yes. Could police processes have been improved? Almost certainly. But did they deliberately exclude information to secure the warrants? Our investigation found no evidence of that."
There must be public accountability and assurance in future, he said, that the weaknesses identified were addressed so mistakes were never repeated.
The IOPC's recommendations included considering whether to record court hearings involving applications for search warrants and renewing efforts to balance the culture of believing victims when an allegation is made with the need to investigate claims objectively.
Writing in the Daily Mail newspaper, Sir Richard said the police watchdog embarked upon a "lamentably slow and inadequate process" in reviewing the work of five Metropolitan Police detectives involved in obtaining search warrants.
He wrote: "Who guards the guards themselves? Who watches the watchers? A malfunctioning police force has not received the necessary oversight."
"The home secretary will wish to address these shocking failures," he added.
'Shoddy'
Sir Richard said the officers' belief that Beech had "remained consistent" in his accounts of sexual abuse was incorrect and that police "failed to disclose seven factors that undermined Beech's credibility".
He added that he had only been contacted after 20 months, and told that two of the five officers under investigation had already been cleared.
The IOPC continued to investigate three officers, but they retired before it published its findings.
A member of the Home Affairs Select Committee said the report was "toothless, shoddy and unconvincing". Conservative MP Tim Loughton added he had "serious questions" about whether the IOPC was "fit for purpose".
Sir Richard said he was "alarmed by the [IOPC's] lack of knowledge of relevant criminal procedure".
He added: "I readily conclude that one or more of the five officers may not have committed misconduct in the application for warrants.
"However I find it difficult to conceive that no misconduct or criminality was involved by at least one officer."
The IOPC said its review of the officers' work "was not a cursory exercise" and "independent and impartial".
It reviewed over 1,800 documents and 300 statements, gathering 14 independent witness accounts and accounts from three officers who were under investigation, a spokesperson said.
"As Sir Richard writes 'no subject should be tried without proper investigation'. And, as he acknowledges in his own review, the IOPC is the right and correct authority to do this," the spokesperson added.
What is the IOPC and what are its powers?
The Independent Office for Police Conduct took over investigations into police misconduct in England and Wales in January 2018.
Previously, it had operated under the name of the Independent Police Complaints Commission.
The watchdog is able to initiate its own investigations and can direct police forces to hold misconduct hearings.
If complaints against officers are proven valid, they can recommend actions and – in serious cases of misconduct – hand over information to prosecutors.
In the past, the watchdog was criticised for not having enough authority over forces and, in some cases, botching investigations entirely.
A 2013 parliamentary report called it "woefully underequipped and hamstrung".
Police officers are still not always cooperating, despite recent attempts to improve the body.
Last year, officers investigated for ignoring chances to stop serial killer Stephen Port refused to answer questions during IOPC interviews.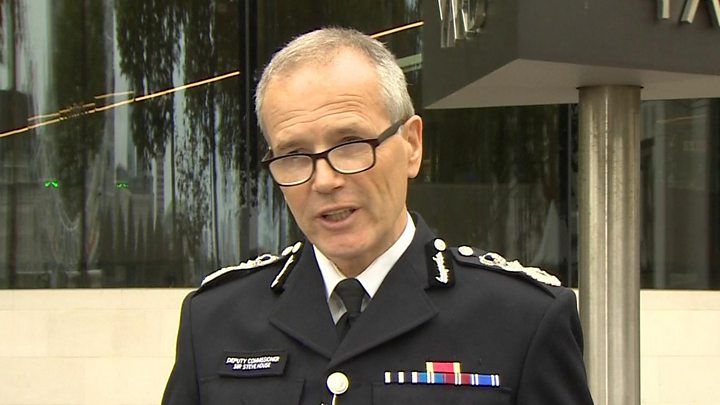 Last week, the Met's deputy commissioner Sir Stephen House said that he was "deeply, deeply sorry" for the pain caused by the Met's "serious mistakes" during Operation Midland but that the force did not accept everything in Sir Richard's report.
Home Secretary Priti Patel has ordered an inspection by the chief inspector of constabulary, following Sir Richard's review.