Cardinal George Pell, the most senior Catholic cleric to be convicted of sexual abuse, has failed in a legal bid to quash his convictions in Australia.
Pell was jailed for six years in March after being found guilty of abusing two boys in a Melbourne cathedral in the 1990s. He maintains his innocence.
A court of appeal rejected Pell's argument that the verdict was unfair.
The former Vatican treasurer, 78, will now remain in jail until he is eligible for parole in October 2022.
Last December, a jury unanimously convicted Pell of sexually abusing the 13-year-old boys at St Patrick's Cathedral.
Pell challenged the verdict by arguing it was "unreasonable" because there was insufficient evidence for the jury to convict him beyond a reasonable doubt.
The cleric's lawyers said the jury had relied too heavily on the "uncorroborated evidence" of the sole surviving victim. But his appeal was dismissed 2-1 by a panel of three judges in Victoria's Court of Appeal on Wednesday.
"Justice [Chris] Maxwell and I accepted the prosecution's submission that the complainant was a compelling witness, was clearly not a liar, was not a fantasist and was a witness of truth," said Chief Justice Anne Ferguson.
Pell's conviction has rocked the Catholic Church, where he had been one of the Pope's closest advisers.
What did the trial hear?
Pell was archbishop of Melbourne in 1996 when he found the two boys on cathedral premises and sexually assaulted them. He abused one of the boys again in 1997.
The trial heard testimony from one of the victims. The other died of a drug overdose in 2014.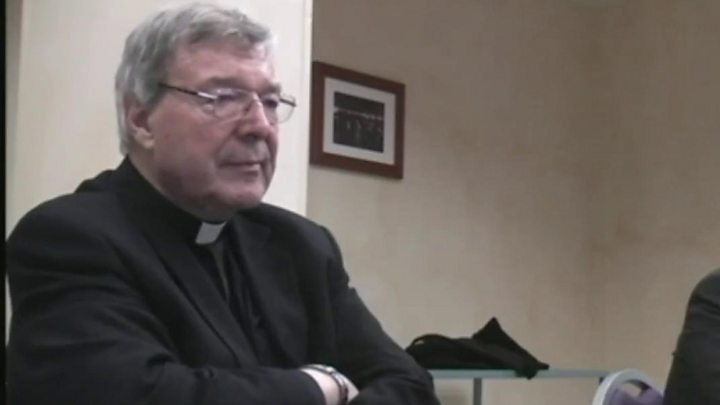 A jury rejected the defence argument that the allegations were fantasies. It convicted Pell of one charge of sexually penetrating a child, and four counts of committing an indecent act on a child.
The verdict was kept secret from the public until February, when additional charges of sexual offences against Pell were withdrawn by prosecutors.
What did the court of appeal say?
The two judges who upheld the conviction said that they "did not experience a doubt" about the verdict.
"We note that Cardinal Pell did not have to prove anything in the trial. Rather, at all stages of trial, the burden of proof rested with the prosecution," Justice Ferguson said.
Pell was present for the hearing. If his appeal had been successful, the cleric had faced the possibility of being immediately set free on Wednesday.
Pell expressionless
Phil Mercer, BBC News, Melbourne
It took less than five minutes for George Pell to learn his fate. Dressed in black and wearing a clerical collar, the man who was once in the Pope's inner circle was impassive as Justice Ferguson handed down the decision.
Occasionally, he looked down, his gaunt features betraying no emotion. When the news filtered through to campaigners and survivors of abuse outside, there was a loud cheer.
"Pell looks better in green than black," one activist told me, referring to the cardinal's prison uniform.
Campaigners accept, however, that Pell's fight for freedom probably isn't over and that a final court challenge could remain.
What's the reaction?
Pell's surviving victim, who cannot be named for legal reasons, said he was "grateful for a legal system that everyone can believe in".
"My journey has not been an easy one," he said in a statement read by his lawyer. "It has been all the more stressful because it involved a high-profile figure."
Australian Prime Minister Scott Morrison told reporters: "My sympathies are with the victims of child sexual abuse. Not just on this day, but on every single day."
Could there be another appeal?
Pell's legal team could seek leave to appeal against the judgement in the High Court of Australia, the nation's chief court.
However, there is no guarantee that the court would agree to hear the case.