The new NI secretary of state, Brandon Lewis has made his first official visit to Northern Ireland.
He was appointed on Thursday after the prime minister sacked former NI secretary, Julian Smith.
On Friday, he held discussions on the phone with local politicians and visited the Northern Ireland Science Park in Belfast.
Mr Lewis spent the day reading his new brief and talking to some of the key players in Northern Ireland politics.
He spoke to the first and deputy first minsters, Arlene Foster and Michelle O'Neill, as well as PSNI Chief Constable Simon Byrne.
He also spoke to Tánaiste (Ireland's deputy prime minister) Simon Coveney, who worked with Julian Smith to form New Decade, New Approach, the document which restored power-sharing at Stormont.
Border poll
Later, he met reporters and was asked about the possibility of calling a border poll in the near future.
"I'm fully aware of my responsibilities as secretary of state, but my focus at the moment is on making sure we make a brilliant success of the New Decade, New Approach deal, to make sure we're delivering for people across Northern Ireland."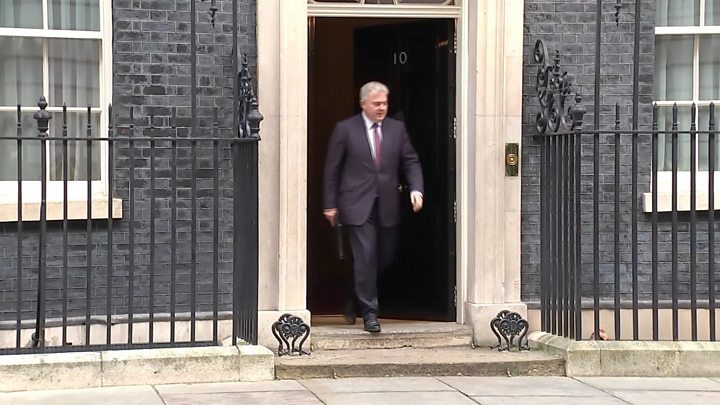 Mr Lewis also paid tribute to his predecessor Julian Smith, describing him as "a superb secretary of state" and saying he had "tough boots to fill".
"I'm very fortunate to be coming in as secretary of state off the back of somebody who did a great job.
"I know [he] will be there with all the advice that I need."
Mr Smith had helped to restore power-sharing at Stormont, but was let go after just 204 days in the job.
Arlene Foster said she hopes Mr Lewis will cement the administration in NI, while Michelle O'Neill said an urgent meeting had been agreed with the SoS.
The Sinn Féin vice-president said there were a number of issues to be discussed with Mr Lewis.
In a tweet, Mr Lewis said he was "looking forward" to his new role.
Speaking on BBC Radio Four DUP leader, Arlene Foster, said: "It's not for Sinn Féin to decide whether a border poll happens or not – it's for the secretary of state for Northern Ireland, if he looks at Northern Ireland and decides that there has been a change."
She added: "Actually the change has been in the opposite direction and the union needs to be underscored as the best for all of the people of Northern Ireland.
"To do that, Brandon Lewis has to be an advocate for the union and I very much hope that he is."
Mr Lewis is a former chair of the Conservative Party and, most recently, a security minister in Boris Johnson's cabinet.
He has been the MP for Great Yarmouth on the east coast of England since 2010.
He campaigned for Remain in the EU referendum in 2016 but later said he would support leaving the EU as he was "first and foremost a democrat".
Last year, during an interview with the BBC, Mr Lewis said that after Brexit checks on some goods leaving Great Britain for Northern Ireland would be required if those goods were then destined to leave the UK.
But he disputed the accuracy of a leaked government document that stated customs declarations checks would be highly disruptive and separate Northern Ireland from Great Britain.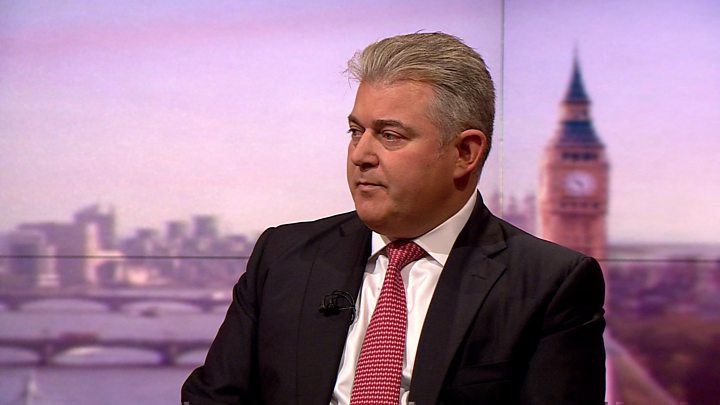 Mr Lewis becomes the fourth Northern Ireland secretary in four years. His three most-recent predecessors are:
James Brokenshire – appointed in July 2016
Karen Bradley – appointed January 2018
Julian Smith – appointed in July 2019